Acting Career Exploration and Advancement Programs for Actors Ages 8 - 25 in

Los Angeles
Discounts on Summer 2018 Camp Programs. Register TODAY or Call with questions
909-268-0615
Dream it. Master it. Do it... on The Actors Campus
Why are we the MOST FAMOUS
film acting program in the world? Click Here
"Suburb experience for my daughter (and whole family for that fact). She loves her new camp family and we loved the parent program."


Nikki Gomez
Mom/ 16 yr old daughter
Houston, TX
"Price and promises were right on point.
Well worth every penny!"


L. Carlson - Director of Human Resources
14 yr old daughter
Boston, MA
"My son's first overnight experience was beyond what we expected. He was in surrounded by all things 'film industry' 24/7 which was a dream come true."


Linda Pernell
Day Care Director/16 year old son
Oakland, CA
"There is no more guessing on what to do to pursue my film acting career. It was laid out for me and I am now on my path to being a working film actress! YAC IS THE BEST OVERNIGHT CAMP IN THE WORLD!!!"

Abby Heniger
17 year old actress
Buffalo, NY
"I can proudly write this testimonial as a (ex)helpless father of a passionate young actor. I know what to do for him now to get him involved in the film industry. The staff and atmosphere was very good for him."

Youssef Mouhandess
Engineer/14 year old son
Paris, France
"This acting camp was life-changing. I learned confidence beyond what I thought I had in me. I learned to say 'I AM a film actress' and mean it. Say it, believe it and achieve it. And I live it everyday!!! Thank you so much YAC."

Lindsey Kroning
18 year old actress
Norwood, NJ
"Thank you for letting me see my dream in real life."


Maddy Smith
8 year old actress
Phoenix, AZ
IT TAKES A VILLAGE TO CREATE AN UNFORGETTABLE EXPERIENCE FOR A CHILD EXPLORING THE HOLLYWOOD FILM INDUSTRY.
Here are Just a few companies that have supported our educational goals and our young actors' dreams over the past 18 years:
AND SO MANY MORE!
Named Top 5 Best Summer Camps in the USA

"A most unique camp experience."

"The camp is poised to bring the best out of its pupils and keep them on the cutting edge."

"One of America's most unique and rewarding summer camps"

"Relevant education for today's actor"

THE ULTIMATE FILM ACTORS IMMERSION CAMP
The Ultimate Film Actors Immersion Camp
July 8th to July 18th 2018
SOLD OUT
July 22nd to August 1st 2018
LIMITED SPACE
Tuition $3790
Age Groups- 12 to 16 and 17 to 21
Request A call to discuss this program
The Ultiamate Film Actors Camp is a TWO SEGMENT program. It's a LAUNCHING PAD into the Los Angeles (or the actor's local) film industry. The international group of young actors are immersed within two segments of the most beneficial lessons as they are nurtured, honored and celebrated for their distinctive needs and goals. We welcome ALL skill levels!
Search high and low for another program anywhere in the world that provides the same well-rounded education and any camp on our site is at NO CHARGE to you.

THE DECEMBER through MAY ONLINE SEGMENT OF CAMP (Optional. There is no additional charge and campers may begin at anytime.)
This interactive Skype segment of camp is included in your tuition. CLICK HERE TO REVIEW THE PRE-CAMP LESSONS. When participants take part in these optional lessons, they are much better prepared for intensive classes and meetings with industry executives. They will meet YAC teachers and campmates prior to their arrival. Pre-camp activities are NOT required but are highly recommended. It is not too late! REGISTER TODAY.
THE JULY RESIDENTIAL CAMP SEGMENT
Actors arrive from all over the world to a transformed Los Angeles-based college campus. The Actors Campus is a place where you'll find assembled the Hollywood film industry's most notable executives, actors, and companies. Rising film actors work in masterfully defined and exceptionally unique activities for artistic exploration and professional advancement in media. The following are just a few highlights….
● On-camera acting classes
● Electives specific to film acting
● A sitcom AND feature film IMDB.com credits
● A whimsical Hollywood themed schedule
● Begin to build/strengthen a film actor's resume


● TWO days of advanced study and play at Disneyland
● Complete a headshot session (and then download photo's)
● Thorough education of the Hollywood film industry through workshops with casting directors, talent agents and famous actors
● Hollywood is our Campground! Hollywood industry centered field trips, studios, screenings- FUN!
● Evenings of traditional summer camp fun games, parties and competitions
● Film a feature movie AND a sitcom in front of a live audience with REAL LA based production companies.
● Career investigations and overview of California colleges/training centers popular for their Acting for Film/Theater programs
Day 1, 2 and 4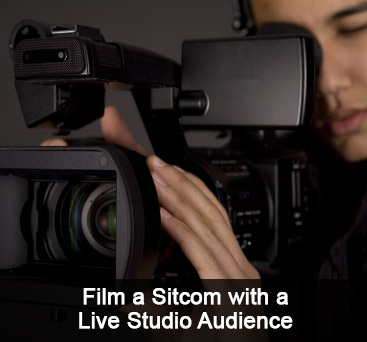 MAKE A SITCOM IN FRONT OF A LIVE AUDIENCE
This segment will add strong credits to the actor's resume. Friends and family are invited to be a part of the fun as we shoot a sitcom in front of a live studio audience. As the actors listen and wait for laughs from their studio audience, they will also learn to deliver a performance blocked for multiple cameras. The actor will balance the internal comedy with the external technicalities of the medium for an effective filmed comedy performance. Professional production companies will replicate television sets on location and in-house, giving the actor an authentic filming experience. All campers will be sent a DVD of their sitcom work.
Day 3
IMPROV LESSON WITH THE DISNEY COMPANY
Improvisational Acting at Disney's California Adventure Park. Work with a Disney actor to broaden creativity through fun improv games. THEN ENJOY Disney's California Adventure Park!
Day 5, 6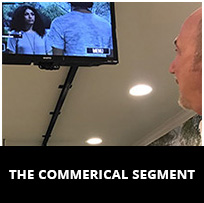 Shoot a REAL TV commercial
Shoot a TV Commercial for a real local company.
Together we will clearly define who the actor is as a commercial product. Experience a "real commercial audition" environment, learn product handling, and make strong connections with the camera. Actors tackle intense commercial script work on their own and with scene partners. We cover everything there is to know about working in the world of commercial acting.
Day 6 and 7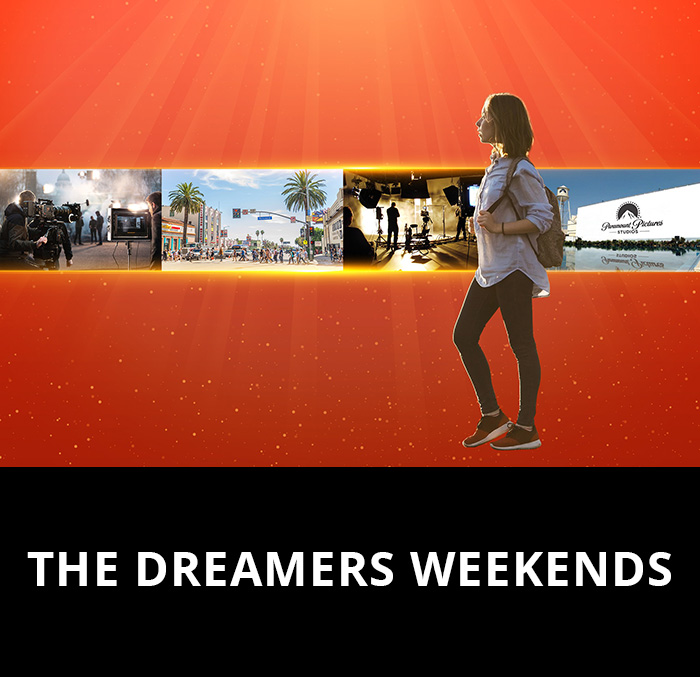 A 'STRANGER THINGS' Inspired Weekend!
Welcome to the STRANGER THINGS themed Dreamers Weekend !
Experience the STRANGER THINGS themed Dreamers Weekend… Casting Directors, Actors, an Agent Q&A's and the most AWESOME GAMES- all surrounding the Stranger Things Series. During this segment of camp, we will focus the paths of the successful young actors from series. Each participant will prepare their headshot and resume for submission to the Stranger Things casting office.
Day 8
INTERMEDIATE ACTING WITH THE DISNEY COMPANY
Intermediate Acting class at with the Disneyland performance team.
Learn to take risks, make quick decisions, tackle cold reading material, and elevate audition skills.
And then enjoy Disneyland Park!
Day 9, 10 and 11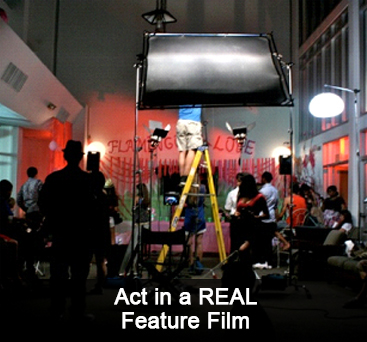 SHOOT A FEATURE FILM
THIS PUT US ON THE MAP UNDER 'AMAZING SUMMER CAMPS' !! We provide an unparalleled opportunity for an up-and-coming film actor to gain on-set experience that will build their resume and add credits to their IMDb page (www.imdb.com). This major production provides an all-around education of the filming process, from the casting session to working with THREE production companies. The young actors will enjoy career assessing discussions with some of the professionals who work with them as they complete this real Hollywood FEATURE FILM.